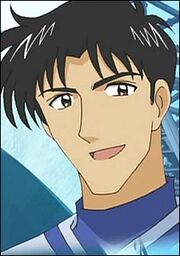 Honda Shigeharu (本田 茂治) (born 1963) is the biological father of Goro. He took care of Goro alone after the death of his wife, Chiaki.
Initially a struggling second-string pitcher for the Yokohama Blue Oceans, his career comes to an abrupt end when he injures his elbow during practice.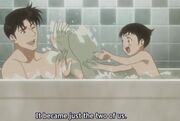 He is offered a position as trainer or scout instead, as he has a degree in physical education. His friend and teammate Shigeno Hideki half-jokingly suggests for him to try out as batter, as he was an outstanding slugger during highschool his years. Both of them realize, however, that Shigeharu is too old to make the switch, given that he is already 30 years old.
After Goro runs out from kindergarden to make a passionate plea to the Blue Oceans' management, Shigeharu decides not to give up on baseball after all. He begins to practice batting secretly, afraid of disappointing Goro, should he fail. His coach and manager are initially opposed to his proposal, but as he manages to hit a home-run off their first-string pitcher, Shigeno, they give him a chance.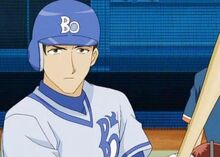 He eventually shows good enough results to play as pinch-hitter. During a game against the Tokyo Warriors, he is brought in at the bottom of the ninth and hits a walk-off home-run, earning him the respect of his teammates and rekindling Goro's faith in him. Following this "debut", he continues to play well enough to earn him a starting position during the following season.
In the meantime, he pursues a relationship with Goro's kindergarden teacher, Hoshino Momoko, whom he eventually asks to marry him.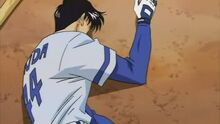 During the following baseball season, he meets Joe Gibson, a fierce, but arrogant pitcher who just transferred from the American Major League to play for the Tokyo Warriors. He is the first and only batter on the Blue Oceans' team who manages to even touch Gibson's pitches, which clock in at 98 mph (158 km/h). After an intense struggle, he hits Gibson's best pitch, a 100 mph (160 km/h) fastball to the backscreen. Shaken up, Gibson loses his concentration and makes mistakes. Unfavourable umpire calls and a "small baseball" bunt offense by the Blue Oceans only add insult to injury, ultimately leading to Gibson throwing a 98 mph (158 km/h) beanball at Honda's head.
There are no immediate effects, and Honda finishes the game seemingly without a hitch, However, at night, he passes out and dies from his injury.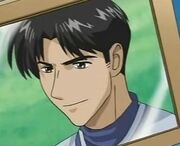 His death hits everyone very hard. The team doctor, who failed to notice the fatal injury in time and Shigeno, who pushed him into batting in the first place, both blame themselves. Gibson visits Honda's deathbed and mutters a few words of apology, which seem thoroughly inadequate.
Following his death, his brother (Goro's uncle) offers to take of Goro. But instead, Goro chooses to stay with his "step-mother", Hoshino Momoko.