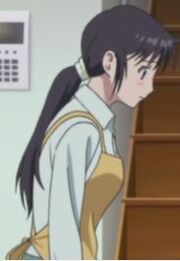 Momoko is a child care worker who looks after Goro. After his Father passes away, Momo adopts him as her own son. She later marries Hideki Shigeno (who becomes Goro's new Dad), becoming Momoko Shigeno, and they then move when he is traded.
She later gets pregnant and Goro has a little brother, although he is not biologically related to him.
Ad blocker interference detected!
Wikia is a free-to-use site that makes money from advertising. We have a modified experience for viewers using ad blockers

Wikia is not accessible if you've made further modifications. Remove the custom ad blocker rule(s) and the page will load as expected.