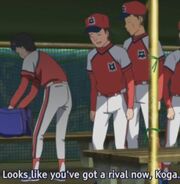 Masato Koga (Japanese order Koga Masato) is a film character who is referenced by a teammate when Goro and Kinoshita try out for his team.
He seems angry when he finds out who Goro's dad is.
A girl in Goro's class at school named Megumi turns out to be his little sister.
He is the ace pitcher and number 1. Goro takes his position as cleanup hitter. He has whiskers on his face.
Ad blocker interference detected!
Wikia is a free-to-use site that makes money from advertising. We have a modified experience for viewers using ad blockers

Wikia is not accessible if you've made further modifications. Remove the custom ad blocker rule(s) and the page will load as expected.