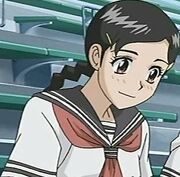 Ayane is a character introduced in the second season of the Major anime, after the time fast-forward.
She is first seen when Goro is running past her and she is nearby the game.
Her friend initially expresses interest in becoming manager of the baseball club because she has a crush on the captain. Ayane is bumped by someone on the stairs and is falling backwards, but she is caught by the captain.
She seems to have developed a crush in response to this, and asks her friend if more than one person can be manager. After noticing her glowing look, Ayane's friend declares that she will back off and instead support Ayane's love.
Ad blocker interference detected!
Wikia is a free-to-use site that makes money from advertising. We have a modified experience for viewers using ad blockers

Wikia is not accessible if you've made further modifications. Remove the custom ad blocker rule(s) and the page will load as expected.